Drum Motors / Features & Benefits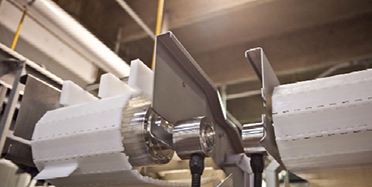 Assembled in Canada for quick and dependable service
Premium materials, cast iron internal components
High alloy quality gears and hermetic sealing
USDA/FDA approved for sanitary applications
Zero maintenance (50000 hours oil life)
Reduced downtime
Withstands up to 2000 psi washdown
Energy savings (96% mechanical efficiency)
Increased operator safety
No external moving parts
Noise reduction
Enhance space utilization
No external bearings or couplings
Increase Operator Safety
All external moving parts such as gearbox, chains, motor, chain guard and pillow block bearings that present safety hazards are eliminated.
Lower Energy and Operating Costs
Van der Graaf drum motors operate at 96% mechanical efficiency resulting in lower operating cost compared to conventional drives. The higher efficiency of the internal drive can result in energy savings of up to 30% over conventional exposed-drive conveyors.
Reduce Noise Levels
Our gears are manufactured using high quality alloy steel, machined and honed to AGMA/DIN 6 standards, reducing noise to minimal decibel levels which exceeds OSHA requirements for noise.
Reduce Maintenance and Downtime
Having no external moving components eliminates the need for continual chain adjustment and yearly maintenance. Our motors are virtually maintenance free, requiring only an oil change after 50,000 hours of operation, which can be performed without removing the drum motor from the conveyor.
Enhance Space Utilization
Low profile of the drum motor results in a streamline appearance and allows to fit more belt conveyor into less floor or overhead space. Allows higher density and multiple applications.
High Pressure Wash down
Extreme pressure wash down with sanitizer is easily performed without the need to shield sensitive components since the completely sealed drum motor has no external components to protect.